Here are a few sweet things that have me all excited this week.
1] I signed up for
Happy Mail
!!!!!!!!!!!!!!!!!!!! And I can not wait!!!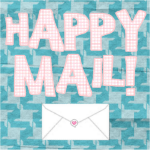 You should probably sign up too :)
2] On Valentines day my sweetie took me down town for some vintage shops and a hunt for bubble tea. I had been hearing about this cute little tea alllll over and was dying to try it. Just from the pictures I knew I would love it. and that I did. mmmm. in love...
3] I am really excited to try Macarons..... I spent last weekend looking up recipes and thinking that I can make these sweet little pretties on my own. False. After a little research, I realized I should just buy some. But where? I called a few bakeries by my house and none of them had any. :( Oh well, I am determined and I will find them. Just Look how pretty they are!
Yesterday it was warm and sunny in Chicago....tonight we got a snowstorm. Go Figure.
Lieutenant Whitey was all snowy when he came inside...
What a cutie!
Im off to bed, I am going to once again attempt to get up for a 5am gym run before work. we will see if that happens. ;)
Nights!
Steph